Celtic League match played at Galway Sportsground on Friday April 13th 2007 |
6 comments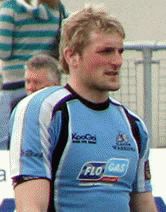 John Barclay opened the scoring for Glasgow Warriors
Glasgow Warriors scored only their third victory on Irish soil in six seasons of Celtic League rugby in beating Connacht on this evening's Magners League visit to Galway.
They made heavy weather of the middle phase of the contest after leading Connacht by 23-5 in 34 minutes. But they worked their way through a ragged second half to pick up a four-try bonus point.
Glasgow led as early as the second minute thanks to a brilliant try from flanker John Barclay after some poor tackling from Connacht and good play from hooker Fergus Thomson to make the initial break and number eight John Beattie who supported well. Dan Parks converted a try that illustrated Glasgow's versatility.
Connacht responded well to the early setback and Paul Warwick scored what could well be the try of the season from a Connacht viewpoint.
He marked in his own 22, took a quick tap and beat three tackles before kicking ahead and winning the race against three defenders to score.
Perhaps exhaustion was a factor in his missed touchline conversion but it was a forgivable miss.
Glasgow's response was calm and measured.
They moved the ball through the hands better throughout and their forwards made positive yards consistently, giving the outstanding Parksy the room to create and cause Connacht problems.
The number 10 added two penalties before kicking a superb drop-goal under pressure to stretch the lead to 16-5 at the half hour mark.
Things were going from bad to worse for Connacht at this stage and Rory Lamont glided through some non-existent tackles minutes later to stretch the lead to 18 after Dan added the extras.
A late Paul Warwick penalty narrowed the gap slightly at the break but the omens were not good.
Connacht had their best spell of the match just after half-time and wisely chose to kick at goal three minutes in from a penalty on the 22 which narrowed the gap further and built momentum.
Within a minute they had their second try after Rory fumbled on the 22 and from a Matt Lacey kick through Conor McPhillips scored to leave the score at 23-16.
Glasgow responded well with tries from substitute Hefin O'Hare who finished off a superb break and prop Kevin Tkachuk added another try, which secured the bonus as the Connacht defence continued to struggle.
Yellow cards to John Muldoon and Brett Sturgess of Connacht along with T-bone and Justin Va'a followed in the closing quarter.
Connacht were awarded a penalty try with 10 minutes remaining but Parks replied with a penalty to seal victory for the Warriors.
You can see some photos from the game here
Referee
Neil Ballard(Wales)
Attendance
1331
Man of the Match
Al Kellock, Andy Newman and Justin Va'a all showed the difference they have made to the agression and determination of the Glasgow pack