Champions Cup match played at Altrad Stadium on Saturday December 16th 2017 |
No comments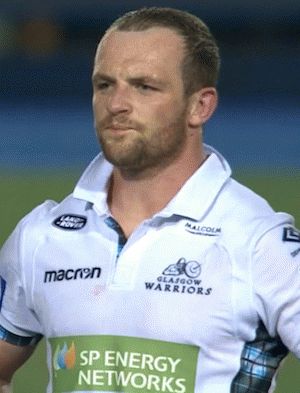 Nick Grigg went over for Glasgow's third try
Glasgow's Champions Cup hopes are officially over after this afternoon's 36-26 defeat to Montpellier.
Five tries were scored in the opening quarter; Fraser Brown, Peter Horne and Nick Grigg crossing for Glasgow, with Nemani Nadolo and Romain Ruffenach responding for the home side.
Two tries from Henry Immelman and one for Benoit Paillaugue gave Montpellier firm control and a bonus point.
George Horne scored Glasgow's fourth to secure a bonus point in defeat.
Last week's loss to the French side in the reverse fixture at Scotstoun extinguished Glasgow's flickering European hopes for this season, coming after defeats in the opening two pool matches at Exeter and at home to Leinster.
"I was really proud of the attitude and effort. We wanted to take the game to them and play a really high pace. I thought we were really physical with and without the ball.
"We had an opportunity just after half-time to score again, we made an error and then they scored twice within five minutes," Rennie told BBC Scotland.
"We made a lot of line-breaks, created a lot of opportunities but we just failed to nail a couple of them especially in the second half where we probably should have done better.
"Obviously it's been a challenging campaign because we've won none of our four games, but all of them we've been right in the mix. We've got to take some lessons out of it.
"Our attitude coming in was we were going to try and make a bit of a statement that we are a better side than the results have shown so far.
"We've got to look at a couple of little areas in our game. I just think when we got behind we tended to chase it and we just needed a little more composure in that last 10 or so minutes.
"We've just got to be a little bit more clinical when it counts."