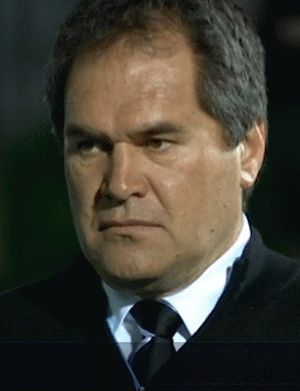 Dave Rennie lamented Glasgow's defensive mistakes
Glasgow's PRO14 campaign ended after a disappointing display against defending champions Scarlets at Scotstoun this evening.
Three first-half tries from Rhys Patchell, Gareth Davies and Rob Evans gave Scarlets a commanding 21-3 half-time lead, and when Ken Owens crossed for the fourth after the break, the game was done.
Warriors rallied late on with tries from Jonny Gray and Nick Grigg, but those efforts were little more than consolation.
Head coach Dave Rennie was disappointed in the Glasgow performance, but refused to be too critical of his players.
Rennie told BBC Scotland: "I don't doubt the guys' efforts. They're a great bunch of men and they worked hard. We just weren't sharp or clinical enough.
"Scarlets scored from three line-breaks - we had four and didn't score from any of them.
"We had a lot of good moments but not for long enough, it's so disappointing."
While satisfied with the commitment of his players, Rennie lamented the defensive mistakes that allowed Scarlets in for some easy scores.
"We've got systems defensively but they don't count for much if individuals fall off tackles," the Kiwi said. "As a group we lacked real line-speed."
Warriors suffered a blow shortly before kick-off when Scotland full-back Stuart Hogg was ruled out through illness and was replaced by Ruaridh Jackson, but Rennie refused to use that as an excuse for his side's sub-standard display.
"Ruaridh Jackson has been outstanding for us this year," Rennie continued. "Hoggy is obviously a world class player but we had some pretty able replacements and there's no excuses here."
The former Chiefs coach says he has enjoyed his first campaign in charge at Scotstoun, and believes his squad is well-equipped to come back and challenge next season.
"They're a great bunch of boys who are determined to get better. We've set a foundation now so we can build on that in a few months time when the boys come back in."
It was Finn Russell's last match for Glasgow before departing to join French side Racing 92.
"It's not the way I wanted to go out, but that's sport," Russell said.
"The highs and the lows, but for me the last six years has been a high. I'm looking forward to continuing that over in France. Not the way I want to exit but it's been an amazing six years for me and I'll take so many amazing memories from the club."
Russell, while keen to emphasise the quality of Scarlets' display, believes much of the damage was self-inflicted.
"It was a disappointing result for us tonight," the Scotland fly-half said. "That's knockout footy I suppose.
"We had a lot of chances, a lot of pressure but just never turned it into points first-half. They made three breaks from simple missed tackles and they finished them off.
"It was a simple 21 points they got in comparison to the three points we had to work really hard to get. Frustrating.
"We just weren't clinical enough tonight. The last few weeks we've been like that. We've missed opportunities and not finished teams off, apply pressure and get the points from it. That's not just in this game, it's been the last few weeks.
"We finished 15 points behind. A couple of things might have gone our way with the referee, a few calls there that didn't go our way to say the least."
Captain Ryan Wilson was frustrated he and his team-mates were unable to send Russell and other players leaving the club off on a happier note.
"It's a bitter pill to swallow," Wilson said. "We wanted to send plenty of the boys off on a better night.
"There's some brilliant club men that are finishing careers. We also had 10,000 fans out here cheering us on. We need to take a good long look at ourselves.
"All these losses - I remember Leinster a couple of years ago - these losses are what got us to that final and we won it [in 2015], so make sure we learn from it.
Centre Grigg admitted he was one of those guilty of costly errors after his weak tackle allowed Patchell in for the opening try. He was also sent to the sin-bin after the break before coming back on to register a late score.
"From the get-go we made silly mistakes," Grigg explained. "That was the theme of the game; discipline let us down.
"I made a couple of mistakes myself. The second half was a bit better, we came back into it and I felt like we had the momentum, but we just couldn't pull it back. You can't give away a first half like that and expect to magically pull it out of the bag.
"That was the first time I've ever been yellow card, and it was by accident. He was harsh on the penalties and it cost us.
"I've enjoyed every moment until this moment. The season itself was amazing. Dave [Rennie] has really brought a passion into playing even faster rugby to the club. I've really enjoyed the season and I can't wait to have a couple more."