It has been a whirlwind couple of seasons for Sean LamontSo talking over a mocha in Glasgow's West End, I asked Sean if he'd expected things to happen so quickly for him.
"I thought it would have been nice to happen, but didn't think it would happen quite so quickly," smiles Sean. "To be honest I'd have been happy if now, two seasons down the line, I was starting to establish myself in the Scotland squad, so to be where I am now is great."
Modest and unassuming, Sean still seems surprised at just how quickly things have happened for him since his move north.
"Coming to Glasgow was a real break. I'd been at Rotherham, but for one reason and another I'd only played about 30 minutes of National One rugby. At the time Rotherham were still pretty amateur in a lot of what they did so it was great to come into a professional set-up and get my chance."
And take his chance is exactly what Sean did. His powerful play soon led to a call-up to Scotland's training squad and a debut against Samoa and he went on to start in the next two Tests against Australia. So did he ever feel his rise up the ranks came too soon?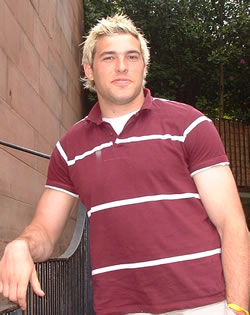 Sean is now an established member of the Scotland squad"I thought I did well in the tour to Australia but I wasn't happy with my form in the Autumn Tests - they were pretty awful for me, but Sean Lineen told me he thought it was just a confidence thing. It's a huge step up from pro-rugby to international rugby. The standard of players you are up against is so high right through the teams you play." Sean might be being a bit too self-critical here - such were Scotland's fortunes over the past couple of seasons, confidence was something in very short supply. So has he noticed a difference since the new interim coaching team has taken charge?
"There is a better atmosphere at training. There is a sense of it being a fresh start. The first training session we had on the Monday was great, everyone was going nuts. The players were out before the coaches and started a massive game of touch rugby, but by the Tuesday session we were burnt out! The weather was great too - maybe that's another argument for summer rugby?"
And Sean's feelings about the departed regime? "I can't have too many complaints about Matt Williams. After all, he gave me my chance at this level. He is a good coach on the training pitch but I think he lacked in the man-management side of things. Players were dropped and given no explanation as to why that was happening. You have to give feedback to players so they can see where they are going wrong and what they can do to correct it."
It's been a long season for Sean and it still has a couple of weeks to go. "Towards the end of the domestic season I was very tired after training but I managed to get myself up for the games thankfully. It does seem like a long season, with the summer tour last year and the Barbarians and Romania games. International games do take a lot more out of you because they are so intense, but I'd rather be playing in them than missing out! The Barbarians look so strong, they keep bringing more big stars into the squad.
"It's great to have Jon Petrie as captain as well. He's been fantastic this season both as a skipper and a player and his player of the year award was very well deserved."
Fans in Scotland weren't the only ones to be impressed by Sean's progress over the last two seasons. Northampton saw his abilities first hand in the Heineken Cup games and a 'Sean Special' at Franklin's Gardens prompted an offer to play in the Premiership next season. With such a big club as Northampton showing an interest was it an easy decision to accept the offer?
Gents polo, available in maroon/white or black/white (not pictured) £21.99 or £1.25 over 25 weeks"It was a really difficult decision to make - in fact it was an awful decision to have to make. There was so much to think about. I'm really happy in Glasgow, I enjoy my rugby and I'm playing with a great bunch of guys - that was the hardest thing to think about - leaving that behind.
"I had the contract for a long time before signing it - just because it was such a difficult decision to make. Eventually Tom Smith said I should get a move on and get it signed because I'd had it so long and Northampton might get fed up and withdraw the offer.
"I just decided that Zurich Premiership rugby is so strong and the facilities and set-up at Northampton are superb - they are a huge club. It'll also help my personal development as well. I need to get stronger because there are bigger guys down there and competition for a starting place will be intense. It also helped that the guys at Glasgow understood and supported my decision. It is a short career and if you don't take opportunities like this you might not get another chance later on.
"I just want to work hard and secure my place in the Saints squad and keep playing for Scotland. Northampton struggled last season so I hope to help get them to the other end of the table, and then get back into European rugby.
"On the domestic front Gemma and I are looking at places to stay - Northampton are putting us up for three months until we get settled, so it's a busy time."
As Sean departs it should be remembered that there is another Lamont on the scene at Glasgow. "Rory is a very good player. He's great on the park but needs to do something about his timekeeping off it! Rory and Euan Murray are last at everything. They always seem to turn up with seconds to spare before fines start!
"Rory's had a good run this season. He had a few niggles from previous injuries but he's getting really fit and settling in well, and being in the Scotland squad has been a big help."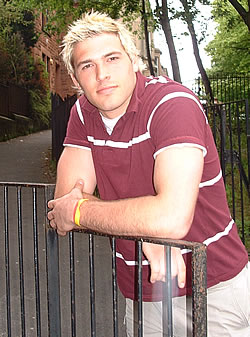 Sean and brother Rory could be fixtures in the Scotland team for many seasons to comeThe brothers could be fixtures in the Scotland team for many years to come and Glasgow fans have already witnessed how potent a strike-force they can be.
"Yeah Rory beat me to a hat-trick in the 57-30 win at Llanelli. I've never scored three in one game for Glasgow, just singles and braces. I thought I might be in for a third when Sammy made the break for his try, but his overhead pass just got to me too late! It was still a great score by him though - I've not seen try like that before!
"That was a great game - a real highlight - but to be honest there have been so many highlights in my time with Glasgow. It's just been great fun."
Sean has made a name for himself with some great tries - many after going the length of the field. "I've always had a bit of pace, but now I've added a bit of power too. I can ride through and break tackles more but I need to work on my acceleration. Over 30 metres Rory can beat me. It just takes too long for me to get going and make my stride length tell. Rory is a bit more agile and lighter on his feet. My gran has a really big garden and we used to practice - in fact we still do - one on one tackling and he is very elusive!"
Unfortunately we'll only be seeing Sean and Rory in Scotland shirts and not in Glasgow's colours. Sean has made a big impact in his two seasons at Hughenden, becoming a huge favourite with the supporters and he'll be a big loss to the team. Always one of the most approachable players in the squad, we're sure that Glasgow fans will be paying close attention to the fortunes of Northampton Saints next season.
So, two years after arriving it would be fair to say that Sean has made a big impact on Glasgow, but it would also be true to say that Glasgow has made a big impact on him. "I'm really going to miss Glasgow and guys like Parksy, Scott Lawson, Craigy. They really are a great bunch, they mix well, no cliques and it was just such good fun. The supporters were always really good to me as well and I'm very grateful for that. Like I said it was an awful decision to have to make but I think I've made the right one."