United Rugby Championship match played at King's Park Stadium on Saturday October 15th 2022 |
No comments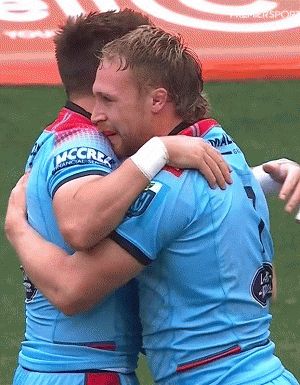 Tom Gordon went over for Glasgow's two tries
Glasgow Warriors lost out to Cell C Sharks in the first of their two-game URC visit to South Africa.
Flanker Tom Gordon scored once in each half for Warriors, but Tom Jordan's conversion of the first was all they had to show for their efforts.
Cell C Sharks points came from tries by Anthony Volminck (2), Bongi Mbonambi, Aphelele Fassi and Werner Kok. Boeta Chamberlain kicked 13 points.
The scoreboard represents another heavy away defeat for Warriors but the match was evenly matched until Sharks emptied their star-studded bench and injuries caught up with the visitors. Once again, the Warriors were undone by cheap penalties while their usually reliable lineout was badly malfunctioning.
Nigel Carolan, who took charge due to Franco Smith being unable to travel due to visa issues, thinks the Warriors will draw confidence from the overall performance ahead of taking on the Lions in Johannesburg next Saturday.
"We're probably more disappointed with the first half than the second half because we had a plan to move them around and I think that only came to light in the 39th minute when we started to ask questions," he said.
"I thought we kicked too much in that first half when we wanted to ask questions of them with ball in hand," he added. "We knew that there was going to be onslaught when the Sharks emptied their bench of all those internationals, and we didn't have a cushion which we could protect.
"I definitely think it was a step in the right direction in terms of that away form everyone is talking about.
"I thought the mind-set was right, I thought the energy was right, but I just thought the way we managed the game tactically in the first half was just a little bit off because we went away from the strategy.
"The last 30 minutes might look like a capitulation but that's going to come on the back of having so much of the game and not getting scores in the bank.
"Then we started losing players to injury and shifting guys around, and it is really hard to keep any momentum against a top-class team like the Sharks in that situation."